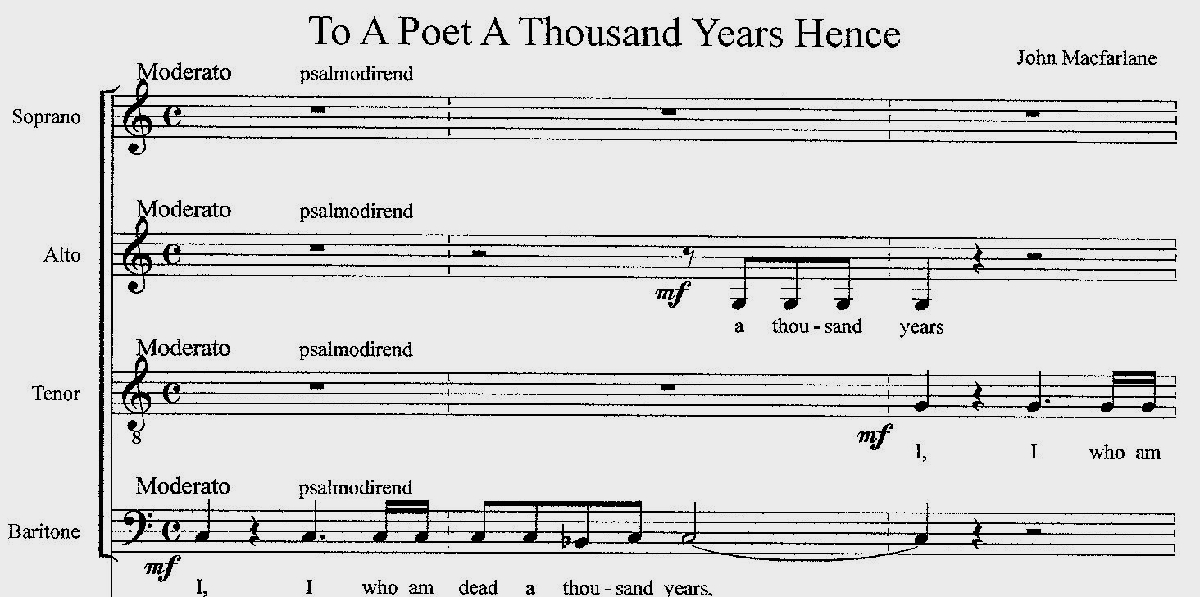 The basic training in music theory and harmony received as a teenager prompted an interest in composition which blossomed in later life. The majority of his works are for voice, either solo or choral.
His first worthwhile song, The Death Bed, is classically strophic but with a different twist in each verse. The Linnet Cycle started out as one song (the 4th) and when more poems featuring the linnet were encountered the cycle was completed. The duet for tenor and bass clarinet is remarkable not only for the unusual combination but also for the use of a 12-tone row in 4 recognisable triads.
The two compositions for flute (Badinage and Sensation) reached the finals of the Fluticon Composition competition. *
The complexity of the polyphonic writing for the piano in works by Dennis Hyams and Alexander Zemlinsky led to them being arranged for chamber ensembles. For his own Rhayader string chamber orchestra John arranged several miniatures; four of these are now in the library of Amsterdam Sinfonietta.  **
His arrangements for symphony orchestra of  two piano pieces by Chopin and  and Rachmaninov have been played under the auspices of the Scarbo Piano Collective.
He has made several arrangements for the standard wind quintet (Board Reviews, A Spanish Selection, Four Romantic Gems); all are playable by talented amateurs.
A set of Shakespeare songs by Roger Quilter has been orchestrated for baritone and string orchestra and is now available from Boosey & Hawkes under the title ' A Pretty Ring Time'. It is intended to be a companion piece to Gerald Finzi's 'Let Us Garlands Bring'.
The other arrangements and all compositions are available from the author. See contact details.
*
" ….am consistently impressed with your orchestration
and your feeling for instrumental color"
Jeff Hamburg, composer.
**
"Wat een leuke en goeie arrangementen"
Willem de Bordes, Artistic Director of Amsterdam Sinfonietta
| Title | Poet | Voice/Instruments |
| --- | --- | --- |
| The Death Bed | Thomas Hood | Bar. / Piano |
| Sensation | Arthur Rimbaud | Tenor / Flute, Cello |
| The Storm | Susannah Macfarlane | Bar. String / Orchestra |
| The Linnet Cycle: | | |
| | Walter de la Mare | Tenor / Clar. Piano |
| | James Elroy Flecker | Tenor / Piano |
| | Juliana H. Ewing | Tenor Bass Clarinet |
| | Robert Bridges | Tenor / Clar. Piano |
| To a Poet a Thousand Years Hence | | |
| | James Elroy Flecker | SATB / choir |
| Remember Me | Christina Rosetti | Bar. + SATB choir |
Instrumental compositions
| Title | Instruments |
| --- | --- |
| Badinage | 2 Flutes |
| Mon Adache | Clar/Bass clar & String Quartet |
| Elegy for DWM | Glockenspiel and String Orchestra |
| Perpetuum Mobile | Reed Quintet [Ob. Alt Sax. Cl. Bass cl. Bn] |
| Exchanges | Bass Clarinet & Organ |
| Composer | Title | Instrumentation |
| --- | --- | --- |
| Albeniz, Isaac | A Spanish Selection | Fl. Ob. Cl/BC. Bn. Hn. |
| Bridge, Frank | Miniature Pastoral Nr.5 | String Orchestra |
| Chopin, Fryderyk | Mazurka Op 7, Nr 2 | 2222-4220-perc-strgs |
| Delibes, Leo | Flower Duet (Lakmé) | Salon Orchestra |
| Delibes, Leo | Pizzicato (Sylvia) | 2222-2200-perc-hp-strgs |
| Delius, Frederick | Serenade (Hassan) | Bar. 0011-0000-hp-strgs |
| Dvorak, Anton | Andante (Suite Op 98) | Wind Quintet |
| Elgar, Edward | Romance for Bassoon | Bn +1010-0000-strgs |
| Gade, Niels | Tanz der kl. Mächen | Wind Quintet |
| Gal, Hans | Piano Fugues Nr 12 & 13 | 2Cl. Bsthn. Bass cl. |
| Gal, Hans | Piano Fugues Nr 12 | Cl. Alt sax. Bass cl. Bn |
| Gal, Hans | Piano Fugues Nr 13 | Ob. Alt sax. Bsthn. Bn |
| Gershwin, George | Summertime | 2122 2000 Strgs |
| Gershwin, George | Summertime | Fl.Vc.Pf. |
| Holman, Derek | Sweet was the Song | Sop. Alt. Piano |
| Hyams, Dennis | Life Invited Me | Sop. Fl. Bass cl. Strg 4t |
| Hyams, Dennis | A Rainy Day | Sop. Fl. Bass cl Strg Trio |
| Hyams, Dennis | Alone | Sop. Fl. Bass cl Strg Trio |
| Hyams, Dennis | When the Thorn Blows | Sop. Fl. Cl/Bass cl. Strg 4t |
| Hyams, Dennis | To Autumn | SATB; 111(BC)1-1000-11111 |
| Joplin, Scott | The Entertainer | Wind decet |
| Kirchner, Theodor | Albumblatt | Wind Quintet |
| Maconchy, Elizabeth | The Sewing Machine | 2 Cl. |
| MacDowell, Edward | Nautilus Op 55 Nr 7 | String Orchestra |
| MacDowell, Edward | Jagdlied | String Orchestra |
| Quilter, Roger | A Pretty Ring Time | Bar. String Orchestra |
| Rachmaninov, Sergei | Valse (6 Morceaux Op 8) | 2222-2200-perc-strgs |
| Rachmaninov, Sergei | Romance & Scherzo | Wind decet |
| Rachmaninov, Sergei | Romance | Piano Duet |
| Rossini, Giachino | La Regata Veneziana | Sop. Alt. + Salon Orchestra |
| Saint-Saens, Camille | Chanson Espagnole | Sop. Alt. + Salon Orchestra |
| Seiber, Mátyás | Easy Dances | 1011-0000-pf-11011 |
| Tchaikovsky, Pyotr | Legend Op 54 | String Orchestra |
| Unknown | Board Reviews | Wind Quintet |
| Wagner, Richard | Albumblatt | Wind Quintet |
| Wolf, Hugo | The Italian Songbook | Fl/picc. Ob/CA.Cl/Bcl.Bn.Hn en Strg 4t. Db |
| Zemlinsky, Akexander | Trio Op 3 (Cl. Vc. Pf.) | Cl. Vc. + Fl. CA. BC. Bn. Strg 4t.Db |